How to create an additional component
Sometimes it may be required to build a component without being subject to geometric and visual rules of the designed item.
To obtain it, you just need to follow these steps:
Click desktop view option in the tabbed menu:
Pick the component you want to create from the toolbar:
It's also possible to create a copy of an existent component, but rather defining it as an additional one.
To do it, you just need to:
First of all, select the component you want to duplicate:

Right click on the mouse and select "Copy ComponentName as an Additional Component" command from the contextual menu
At this point, component will be listed as part of the additional ones group.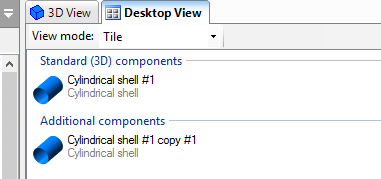 At last, amongst the component properties, there's a checkbox that specifies whether component has to be considered as part of the item, influencing pressure calculation, weight and so on, or not.